Really? It's necessary as a teacher to go through a massive about of bullshit for no particular reason at all?? I'm not talking about parents. I'm not talking about obnoxious students (and trust me, I have a few!!) I'm talking about staff members. I'm going to be very non-specific here (I don't know WHO stalks my blog from work! lol) but I'm so over people who think they are all that with no reason ... who talk themselves up ... who use big words to make themselves sound impressive ... who feel the need to attempt to put other people down to make themselves appear more superior. I'm SOOOO over it, and there are some days that I wonder what I'm doing with my life. Sigh. Today was a mix of one of those days, and one of the good ones - the ones where I walk out of a classroom just feeling alive, like I've made a difference, and that someone is a bit closer to being successful in their schooling career because of something I said or did. And THANK GOD that moment came not once, but twice today ... that's the only reason I'm going back tomorrow. And the next day. And the day after that ... well, no actually, because it's saturday, but you get my point.
Hmmm ... what's going on apart from that? Lots of stuff to make me sad. Yes, I've spent a massive amount of time in the past 4 or 5 days just bawling. Bushfires. Loss. Tragedy. It's just inhumane that people are dying, not just because of a natural phenomenon, but due to the work of some sick disturbed arsonists. It's something I'll never understand ... and thank god for that.
For every beautiful image that comes along, like the wondrous picture of the CFA worker giving that koala a drink, there are so many more to break your heart. Houses. Land. Belongings. People. Too sad for words ... and it's not often that I'm lost for words really, so that's something huh. One of my classes today actually brought it up - we were talking about character traits, and they all had to pick 10 out of a list that described them. Compassionate was on the list, and one of the kids said that was me - and then asked how I was feeling about the bushfires. I said that, in all honesty, I just couldn't talk about it, and they all sat there stunned - totally stunned. "That's a first, Miss!" came the comment from the back of the room. Yeah, that lesson was one of my highlights ... love that group.
Other stuff to make me sad ... Nan isn't doing so well. Yet again, too heartbreaking for words. She has deteriorated a lot in the past couple of weeks, and whilst we are all hoping that she is here for Bella's first birthday, we aren't really holding our breaths. I'm just not ready ... are you ever? Crapola. Totally.
I was reading Lusi's blog today ... she has this "Get Real" thing going on, and I was planning on starting it - I was going to tell you about how I didn't make the beds this morning (in fact, I haven't in AAAAGES!!) and how my laundry basket is full to overflowing. I was going to tell you about a whole lot of average, ordinary, real-life stuff ... but I guess what I've already posted is just about as much reality as I can cope with today. Love the focus on the real Lusi - I think I've been doing that for a while actually! No-one could ever accuse me of being superwoman (except in jest! Lol) So I am going to leave the reality of destruction and despair as my "getting real" for today. And I thought I might share some of the other realities in my life that keep me grounded! Some layouts of my favouritest people. God I love my kids!!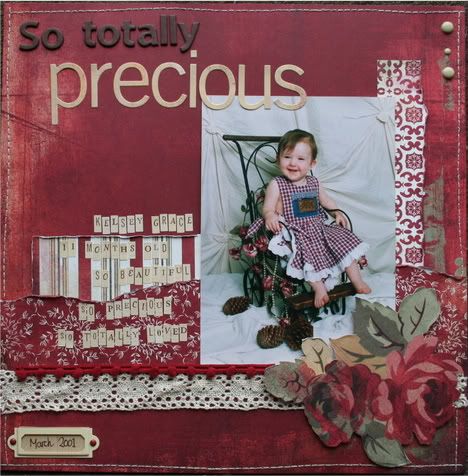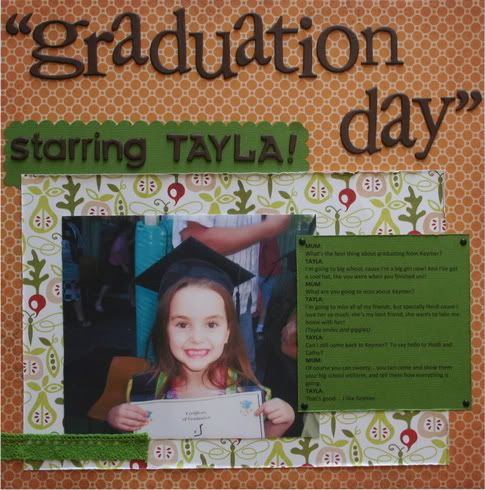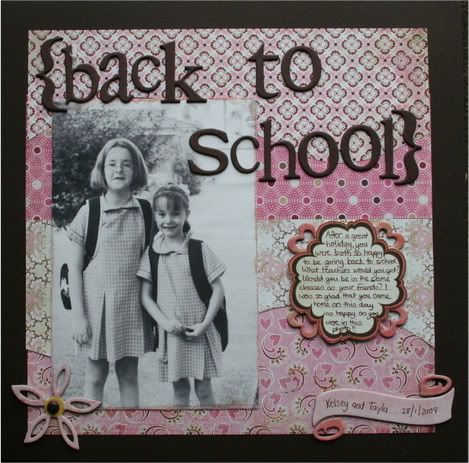 These are all layouts using some of my yummy new Basic Grey, and my beautiful new printer ... oh how I love thee, Canon Pixma 630!! Just awesome.
Basic Grey is the MAN of the Month at Scrap Therapy this month - check it out, there is a lot of great stuff on sale, and some new ranges due in any day now!
K, I'm off to get ready for work tomorrow, and get the kids school clothes ready - they are having a mufti day to raise money for the bush fire appeal, and they are very excited about it - they have been gatherin every cent they can to take in!!! Hug your kids, and tell the special people in your lives how special they are!